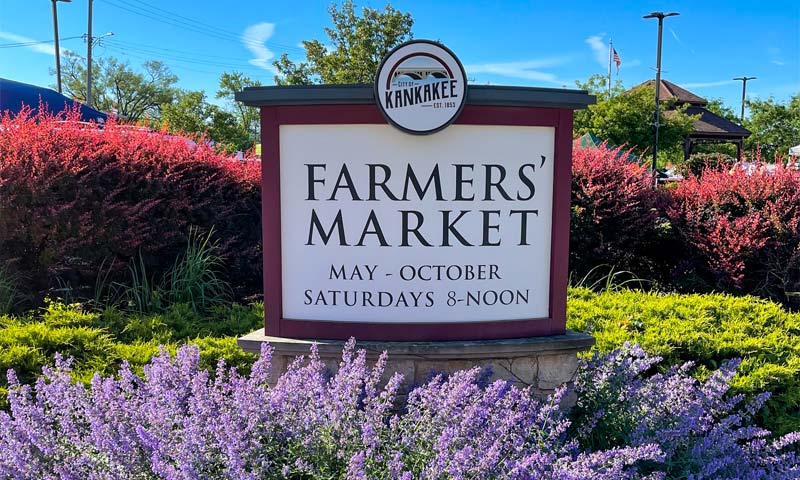 The Kankakee Farmers' Market is the only market in the area which takes place on Saturdays, making it one of the most popular weekend destinations for miles and miles around.
A remarkable center for community gathering, the Kankakee Farmers' Market also welcomes people from as far away as neighboring states who travel to Kankakee in order to take advantage of the local fresh produce, handmade goods, and freshly-made, ready-to-eat foods.
The Kankakee Farmers' Market is family-friendly, providing activities and music to visitors of all ages.Open almost exactly half the year, be sure to spend Saturdays Downtown at the only local market in the area which provides shopping carts to its customers.
Hours: Saturday 8:00am to Noon
Location: Intersection of S. Schuyler Ave. and Merchant St. in Downtown Kankakee
Season: Every Saturday May 6 through October 28
Sponsorships
If you are interested in being a sponsor for the 2023 Kankakee Farmers Market season, please see the link below for details.
Entertainment Sponsorship Proposal
Thank you to our 2023 sponsors!
Application
Vendor Information: If you or your company would like to be a vendor at the 2023 Kankakee Farmers' Market, please apply using Manage My Market.
Non Profit Organization: If you are a non-profit organization or a club wishing to perform, please fill out the Non-Profit Application listed below.
Musicians: If you would like to be considered for the 2023 music line-up, please fill out the Musician Application listed below.
Payments/Insurance: All payments or paper copies of liability insurance can be sent to:
Kankakee Farmers' Market
Attn: Ashley Cantrell
In Care of: Lori Anderson
200 E. Court Street, Suite 602
Kankakee, IL 60901
Follow the links below to apply and for additional information:
FARMERS MARKET POLICIES AND PROCEDURES